Mansfield iSTAR Therapy

Instrument Soft Tissue Assisted Remodeling (iSTAR) Therapy is a very exciting treatment intervention in this Mansfield clinic. It involves remodeling healing and hardened scar tissue to better match the original tissue. This intervention results in superior scar tissue, increased healing tissue strength, mobility and a decrease in re-injury of the site.
Here is a video demonstration and some info on instrument assisted tool treatments.
Treatment Application
The therapy involves warming up the scar tissue and treating it with specialized tools that loosen and break unorganized tissue. The body then re-repairs the site and we remodel the scar tissue again, usually 4-6 times so the final scar tissue matrix lies more parallel to the healthy tissue around it.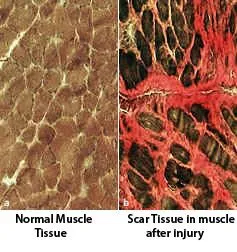 The soft tissues in your body heal somewhat similar to your skin when it is cut, with scar tissue. If you look at scar tissue under a microscope, it can appear very disorganized. This creates some of the "tight look" around the edges of scars. Well, this happens inside the body when damaged tissues are healing. Research has shown that appropriately applied tension will improve that quality of the scar tissue modeling, resulting in more organized, parallel fibers and less cross fibers.
I am sure you can image what would happen to your hamstrings if you had a buildup of scar tissue from repeated strains or overuse injuries. They can usually be re-injured doing a specific activity that a person learns to avoid. You do not have to avoid the activities you love. Come and get that scar tissue modeled, ask about our iSTAR treatments!
Call us today at (682) 478-5277