Mansfield Traction and Decompression Treatments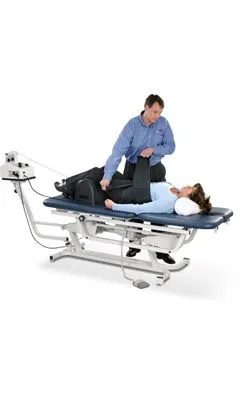 Traction Therapy uses a machine assisted table to create a separation of tissue with a controlled resistance and duration. This type of treatment is often utilized for neck and low back ailments.
Evidence suggest that Traction may help with selective disc related disorders and muscle spasms. Traction increased to a specific resistance may even create a therapy referred to as Decompression. Decompression is the distraction of tissues in the body relieving pressure on nerves or nerve roots.
Traction and Decompression are not for everyone and the doctor will determine if you are a candidate for this form of intervention. Traction should not be painful and most patients feel substantial relief during and after treatment.
Traction/DECOMPRESSION is COVERED BY YOUR INSURANCE!!
Call for more info to (682) 518-6263.